Experienced Residential Garage Builders in Newark, NY
Like any major renovation, a new or upgraded garage will significantly increase your home value! The value will especially skyrocket when your new garage is done with the care and attention Fingerlakes Construction (FLC) provides for every job. We build nationally-recognized garages from start to finish, literally. FLC owns all our materials, and our highly-insured employees operate every step of the process. That allows us to control every aspect of the construction project so that you don't have to deal with anyone else, streamlining the entire process.
With over 50 years of well-regarded experience, our team has all the tools necessary to give you the space you desire within your new garage. Whether you require a garage addition for your wife's new car or you've always dreamed of having a workshop, the professionals at FLC are here to make your garage ideas a reality.
Replace Your Outdated Garage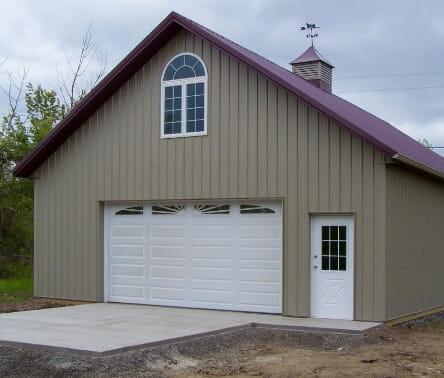 The garage is usually last on the to-do list regarding repairs. Since homeowners don't spend nearly as much time in the garage as in their homes, it can be easy to forget about the additional space you have to work with. Thankfully, FLC offers unique and innovative design solutions to maximize your garage and return it to your homeownership map.
At Fingerlakes Construction, we recognize the importance of a new, long-lasting garage for your humble abode. We'll work with you to draft a design you're happy with that fits your budget, and we'll keep you informed every step.
Garage Build-Out FAQs
How much does it cost to build a garage?
New garage construction will vary from project to project, but with Fingerlakes Construction owning all our process steps (not outsourcing any of the work), we can significantly lower our clients' costs. For more information about how much your garage build-out will cost, contact FLC today for a quote.
How much value does a garage add to a house?
A new garage adds anywhere from 64% to 81% return on investment or an estimated $20,000 to $35,000 in home value. It's important to remember that these numbers are based on the age of the home itself, materials used, and overall square footage.
Does a detached garage add value to my home?
Yes! While the housing market can fluctuate, a detached garage can see an approximate 65% return on investment for resellers and a comparable increase in home value. The care and teamwork FLC provides with our projects will help your value.